In Aeternam Vale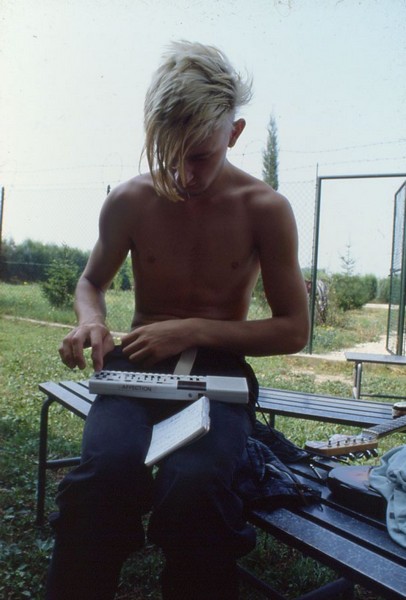 In Aeternam Vale is an electronics fanatic who has experimented continually with the analogical synths and
old rhythm boxes in his collection. To this day his music remains incredibly powerful, cold and caustic and
takes cues from punk rock nihilism and aggression. He was in a band back in the eighties but also was inspired
by Kraftwerk and conjured up his own inhuman musical universe with haunting singing front and centre. His
nightmarish atmospheres also come with a sense of satire and humour and though confrontational in nature,
are hugely rewarding. His visceral relationship with music has played out with releases on Minimal Wave and
went on to take in trance-techno, ambient and even house in recent decades.
Opening up is 'La Plage', with vulnerable vocals lost in a mix of jittery drums and hits that are innocent yet
powerful. It's a brilliantly unusual sound that is both danceable yet emotional. The stiff and coarse 'Bathroom'
has deadpan vocals and flat footed drums. The edginess of the voice is offset by a more playful melody and
the whole thing prowls at a slow and predatory pace.
From there, 'Rattlesnake' rides rough on a corrugated bassline as metallic hits light up the groove like a strobe.
Mangled vocals add a layer of grime and eeriness while the drums work you into a slow motion dance that will
send clubs wild. Last of all, 'The Missionary' is the most industrial and brutalist of the lot, with gauzy textures,
drilling bass and dystopian moods all finished with a voice that is refracted around the mix.
This is utterly thrilling and fresh sounding electronic music that is truly timeless.